I got home last night from bloggy boot camp with a brain full of knowledge! I had an incredible time. Since its going to take me a few days to sort through my notes and process all the information I took in I thought I would share with you 5 things I learned/experienced/discovered and they are a bit random :)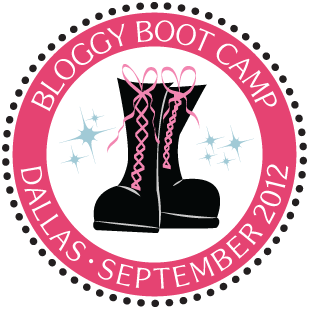 #1
I got to meet one of my blogging bff's yesterday, the gorgeous
Kelley from The Grant Life
! She is an INCREDIBLE woman and I am sooooo glad we were able to meet in real life and go to BBC together! Talk about a life/blog changing experience!
#2
As a kid I dreamed of being a writer, I never thought that I'd be one. But I Am! As a Blogger, I write, pretty much daily, and share my perspective on life. That makes me a Writer! And since Kelley and I agreed to split up for the separate sessions and share notes I went to the Writers Workshop :)
Francesca (
http://www.thesitsgirls.com
) and Kathy (
http://www.mamakatslosinit.com
) Challenged my way of thinking about my blog, myself and my story. I will definitely be going into more detail about this session in a separate post :)
#3
Holly (
http://sheisdallas.com
) shared some great ideas about including local content in your blog. Even if you're not a "local" blogger you can really use it to boost keyword searches and your SEO. Who knew????
#4
I met a TON of awesome bloggers! And made some really great connections :) I'm going to be working hard over the next couple days to connect with my new friends!
#5
Bloggy Boot Camp is definitely an experience I want to Repeat! I'd say its worth every penny… but my ticket was a gift! :p Next time they are even close to within driving distance I WILL BE THERE!
My brain is still on overload! So I am going to take a Sunday afternoon nap :) Oh and you should head over to
Mommy Made Blog
! I'm giving away one of my favorite things from
the shop
!